Weight loss is something we all strive for, men and women alike. However, there seem to be several misconceptions regarding weight loss based on gender. New age products and the media is partly to blame as they create products to cater only to a particular gender and look to convince them to make a purchase based on false pretenses. For the most part, weight loss tips for women and men are fairly similar but there may be some aspects that need to be cleared. This article will cover some of the misconceptions regarding weight loss for women as well as certain distinctions.
Women lift Weights Too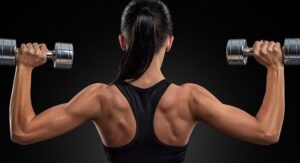 Many people are under the misconception that weight lifting is something that are exclusive to men. While the notion behind this is that women's testosterone levels are naturally low and are thus incapable of packing on muscle beyond a certain level naturally, weight lifting can be very beneficial for a woman looking to lose weight. This is one of the most important weight loss tips as weight lifting improves overall metabolism and will make you stronger in the process.
Get advice from an educated nutritionist or fitness expert
Whether its weight lifting, diet or simply cardiovascular exercises, women tend to be misinformed as most people tend to provide advice that is geared towards men. Nutrition differs depending on the gender as women are relatively lighter in weight and require fewer calories per day in general. Additionally, weight lifting routines are also specific based on gender. The best option would be to consult someone who is well versed with women on the topic of nutrition or weight loss. Another option would be to perform self-research. The internet is an excellent place to find diet and work out plans that are specific to women. This is one of the most important of the weight loss tips for women.
Stay strong
Women are generally more emotional and susceptible to be affected by lack of results. Weight loss can take time and it may seem as though you're not seeing results, but it can take a considerable period of time before dramatic, visible changes are seen. Stay focused and you should see the light at the end of the tunnel soon. A great way to measure progress is by taking pictures. Don't do it too often, once a month is plenty. In a couple of months, you will notice that you actually have slimmed down and this will keep you motivated.
Watch your appetite
This is one of the weight loss tips for women that also apply to men but it cannot be emphasized enough. While you shouldn't starve yourself, you will be on a caloric deficit so it is normal to feel a little hungry. When this happens, it is important to not give in as it could greatly affect your weight loss efforts. If you have trouble controlling yourself, try an appetite suppressor such as Phen375, PhenQ which will keep you satiated for longer.
These are four of the most important weight loss tips for women to keep in mind. Remember these points on your way to having that slim body you've always wanted.
Visit – freebodybuildingblog.com